Katie is super excited to be a part of the upcoming reading of The Wolves directed by Sam Morales, cast by Tessa Faye Talent, and photographed by Aaron Lenhart Photography. This reading is being held with the possibility of a fully realized production in the near future. Katie will be reading for #14.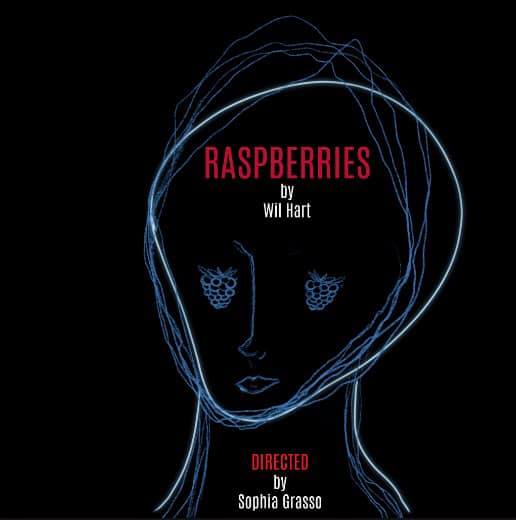 Raspberries at NYSummerfest
Katie is looking forward to assistant directing WIl Hart's newest play Raspberries in the NY Summerfest at the Hudson Guild Theatre! The show will be performing on the following dates:
July 15th @ 6:15pm
July 19th @ 9pm
July 21 @ 4pm
Katie is very happy to have been a part of the Hooked Webseries as the role of Erica, the overzealous sorority leader. Hooked has been selected for numerous festivals this season such as Hollywood Comedy Shorts, Garden State Film Festival, LA Independent Film Festival, Top Shorts, Hollyweb Festival, and more. It has currently won various awards including Best Web Series, Best Comedy/Drama, Best Duo and more! Be sure to check it out! More info on where to view it to come.
Showtime with Shakespeare National Tour
Katie has be touring over the past couple of months with the cast of Showtime with Shakespeare, a rap/hip-hop musical that is based off of the popular Magic Tree House book series. Katie plays the role of Annie and has already had the incredible opportunity to perform across the country for huge audiences. The tour concludes the last week of May, where they will close at New Jersey Performing Arts Center.
Katie is elated to have signed with Avanti Talent Management this January with a focus on commercials, TV, and voice over!
News
1/11/18
Katie recently modeled for the popular brand Bumble and Bumble. Photos will be released via social media postings and ad's through the company come early February!
12/12/18
Check out this spooky, fun short that was written by Ryan Attie! Video link is on the Media page.
Hey there! It's been a busy summer with readings and projects, but here is a new update! This past summer Katie had the pleasure of playing the role of Hannah in a workshop of the new play Abnormal written by Scott Miesse. Following that, Katie is excited to announce that she was offered the role of Hannah in this September's production which will have 4 performances beginning September 14th. For more information on where to find tickets, please visit the website listed below!
WHERE: Alchemical Theatre Lab
WHEN: September 14th @ 8pm, 15th @ 8pm, and 16th @ 2pm and 7pm.
TICKETS: https://cofare.io/CoFare/showDetail.cofare?code=581
4/26/18
Katie is elated to have been cast as Annie in a workshop of Showtime with Shakespeare, a new musical that infuses hip hop and Shakespeare's work! This workshop will help in the development of a future national tour and is held by New Jersey Performing Arts Center and George Street Playhouse.
4/26/18
Katie will be joining a group of insanely talented women this weekend in HERSTORY, a night celebrating female artists/songs written for women! Ranging from Divas like Beyonce and Adele to opera, this night is sure to be jam packed with some beautiful, soulful performances. Katie will be singing Chandelier by Sia and Burn from Hamilton.
We will be donating 15% of the door to Art Therapy Nest, an organization that offers therapy to victims of sexual and other traumas. Just $300 provides 6 weeks of group therapy free of charge to an individual in need! Let's get butts in seats ladies!
The performance will take place at Opera America from 8pm-10pm
Tickets are $20 at the door and include a glass of wine, a specialty cocktail, and the chance to enter to win a $150 Spa gift card!
4/17/18
Katie had the pleasure of reading the role of Hannah for a private reading of the new up and coming play Abnormal written by Scott Miesse.
Follow @Abnormal_nyc for more info on the play!
3/19/18
Katie was recently cast in the new play An Incident at Peniel by Daniel Beller. Playing April 11th-14th!
3/19/18
Find the latest episodes of The Lovebirds Project: Chaos Theory by clicking the link below!
Katie appears as Mara in Episode 3&5 :)
1/17/2018
Katie is excited to announce that she will be working on the The Lovebirds Project again as the role of Mara for their 3rd season! For a look at The Lovebirds Project, please check out the media tab. More information on the new season and where to watch new episodes to come!
1/3/18
HUNT by Wil Hart
The Secret Theatre
44-02 23rd St.
Long Island City, NY 11101
E, M, G or 7 train to Courthouse SQ/23rd St.
ONLY ONE SUBWAY STOP FROM MANHATTAN
Saturday January 13th @ 7pm
Wednesday January 17th @ 7pm
Sunday January 21st @ 3pm
Thursday January 25th at 7pm
Sunday January 28th @ 5:30pm
Thursday February 1st @ 7pm
Please copy and paste this link for more information on the festival and ticket pricing: https://secrettheatre.showare.com/eventperformances.asp?evt=18
12/7/2017
Excited to have been cast as Miranda in the new play HUNT by Wil Hart! HUNT will be apart of the Act One: One Act Festival, which will be held at The Secret Theatre throughout January. More information to come! :)
12/3/2017
Katie recently returned to New York after working with George Street Playhouse on the touring production of Austin The Unstoppable in Houston,Texas.
https://www.broadwayworld.com/amp/c.php?url=George-Street-Playhouses-AUSTIN-THE-UNSTOPPABLE-to-Tour-to-Houston-This-Fall-20170929